Chinese Chicken Broth is not only delicious, it's good for you! It helps bolster your immune system.
My Dad used to make this for us when we were kids, as did my grandma when we were ill. So here's a recipe I've been cooking a lot recently. It's clean, tasty, and easy to make.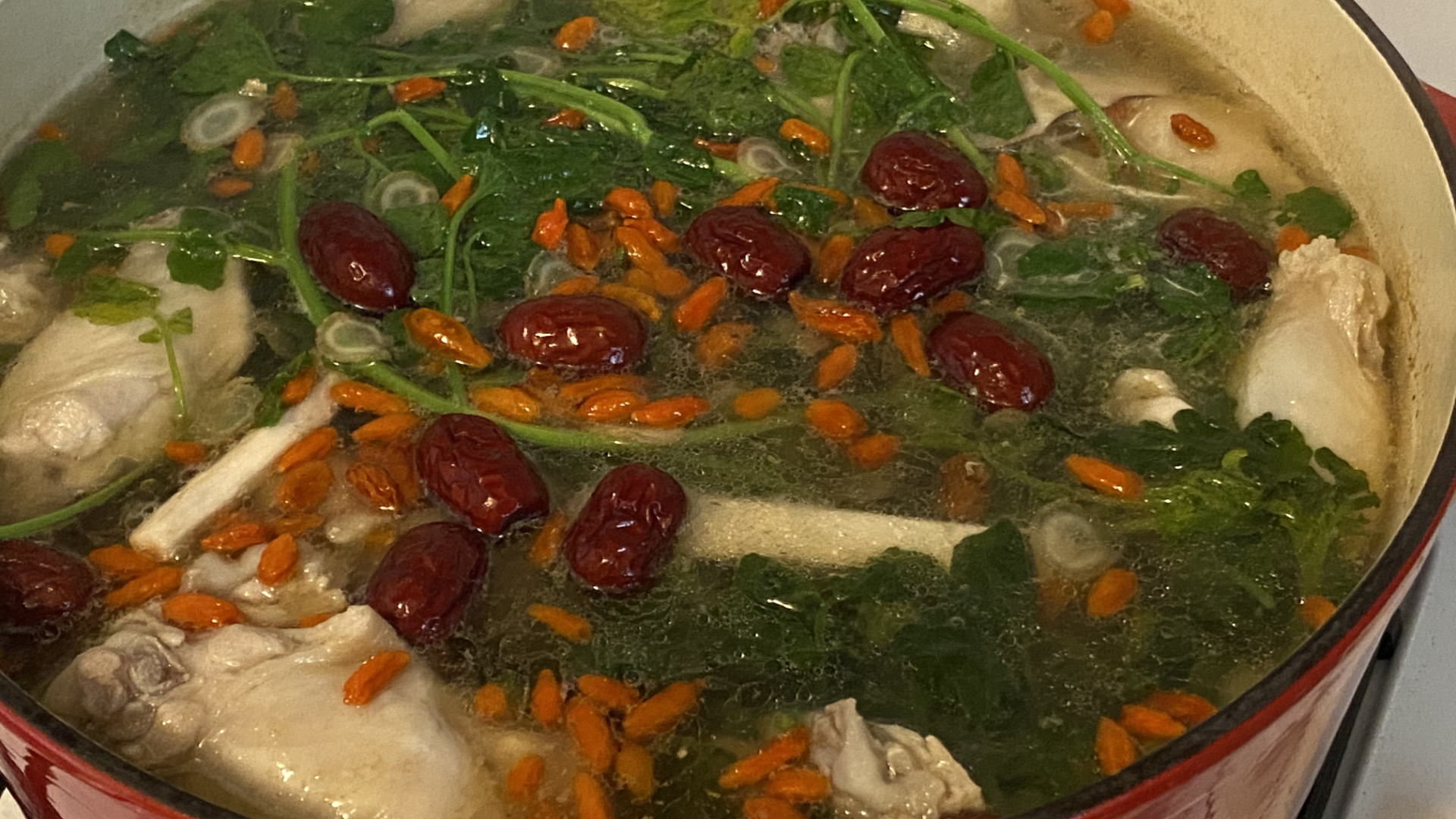 Prep time: 5 – 10 minutes. Cook time: 3 hours
Ingredients
6 – 8 Chicken wings.
Chinese soup stock herbs – you can buy in a packet from most Asian grocery stores (see photo on tis page). The one I prefer has – Sea Coconut, Dried Redmedler Berry, Knotty Yam, American Ginseng, White Fungus, Red Date, Dried Longan.
3 or 4 large cloves of garlic (peeled).
A knob of ginger, cut into 3 or 4 thick slices.
Chicken bone stock (I use chicken bone stock that you buy in a packet, not stock cubes).
Watercress (one bunch is plenty).
Lotus (water lily) root, sliced.
1/2 – 1 cup of Shao Xing wine. Be generous, the flavour is delicious.
Salt for seasoning.
Method
In a large pot, boil 3 or 4 litres of fresh clean cold water, depending on the size of your pot. You want it to be about 2/3 full. Season a little.
While the water is coming to boil, wash the chicken wings, peel the garlic and slice the ginger into medallions about 5mm thick. Set aside.
Add the chicken wings to the boiling water and and let boil for 2 -3 minutes to bring any impurities to the surface. Turn down the heat to a simmer, then skim off the foam as necessary. Add back any water you might have skimmed off.
Add the garlic, ginger, soup stock, Shao Xing wine, chicken stock, Lotus root, and season to taste.
Lastly the watercress to the pot. The watercress should basically cover the ingredients.
Note: you might not need all of the watercress. I usually add a bit more than half a bunch, then add the remainder after the first half hour. You should have enough water in the pot to submerge and cover all the ingredients. In other words, the ingredients should be floating. Remember that over the duration of the cook, about 2cm of the stock will evaporate.
Partially cover and let it very gently simmer for 3 hours. Stir every half hour or so.