Tonight was Pork Butterfly Steaks.
### Ingredients ######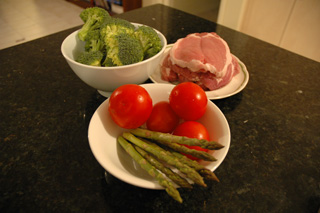 * Pork butterfly steaks
* Brocolli
* Tomatoes
* Asparagus
* Garlic, Rosemary
* Extra Virgin Olive Oil
### Method ######
The tomatoes and asparagus are pan friend in diced garlic and butter. Have these going before you start the steaks. Make sure you take out the asparagus early, they don't need much cooking.
Heat up some olive oil and season the oil with garlic before placing the steaks in the pan. Then sprinkle a little rosemary and garlic over the steaks. The brocolli can be steamed or microwaved. Then I pour just a *little bit* of honey over the brocolli.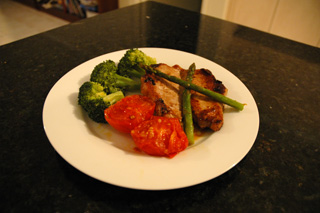 I can recommend a Brown Brothers Pinot Grigio to go with this.
*I shot this using the Nikon D70s. ISO 800 with the white balance set to AUTO -3. Basically experimenting with white balance settings recommended by [Ken Rockwell](http://www.kenrockwell.com/nikon/d70/d70-settings.htm).*
Stay tuned for another recipe tomorrow 🙂