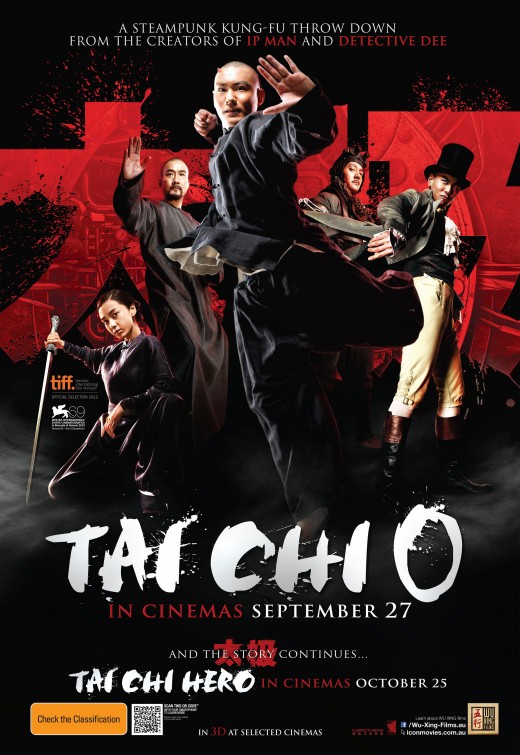 Tai Chi 0 (zero) brings the old school Wu Xia genre to life with spectacular martial arts and steampunk!
The film tells the story of Yang Lu Chan (played by Yuan Xiaochao), who has a growth on his forehead, which, when pressed, transforms him into a raging machine of martial arts mayhem.
The downside? It depletes his inner strength and may lead to an early death. An ageing master tells him he must travel to the Chen village and learn Chen style Tai Chi – which will store energy and prevent an early demise.
In Chinese, history, the real Yang Lu Chan went on to develop the Yang style of Tai Chi.
Yang Lu Chan's journey sees him become a hero who must save the Chen village from a railroad tycoon whose steampunk styled machinery will destroy everything in its path.
Produced by Jet Li and directed by Stephen Fung, the film is a 19th century period piece that harks back to movies like Shaolin Temple.
Whilst the storyline is a little predictable, it works in this context – it's a little tongue-in-cheek 🙂 I went to see an action movie, it's definitely that!
The action is directed by the legendary Sammo Hung. Which, for me, means it's a "must see". A glance at his filmography will tell you why.
The great thing about the martial arts in this movie is that it's real Tai Chi… apart from the wirework 🙂 If you liked Ip Man for its authenticity, you'll appreciate this movie.
Written as a trilogy, the sequel – Tai Chi Hero – starts screening in October 2012!
Movie links