It's Friday, I arrive at the hotel (Amsterdam Airport Best Western) and ask if there are any taxis going past.
I had left Leicester Square at 4:30pm to allow time to get to Heathrow by 6:00pm. My flight to Amsterdam was due to leave at 8:25pm. The flight is only 45 minutes but Amsterdam is 1 hour ahead of London.
As it happened, I arrived in plenty of time so I went to the coffee shop with the latest Empire magazine under my arm.
I was hot and thirsty after 45 minutes on a packed train. The upside was there is a stop at each of the terminals at Heathrow. I virtually walked off the train into the check-in queue.
I ordered a large iced coffee, scanning the area for agents … just kidding, I looked around for a spare table.
Now, back home… an iced coffee is typically made with cold milk, ice cream and sometimes topped with whipped cream. Yummy, creamy milky coffee tasting goodness.
What I got was exactly what I asked for. It was a coffee, hot, with loads of ice and some milk. This was served in very large (grapefruit cut in half size) tea cup shaped mug. So, I emptied a bucket of sugar into it and waited for it to cool.
I couldn't wait any longer, I gave it another quick stir and gulped about 5 mouth-fulls down.
With so long to wait, I watched a couple of triple-j vodcasts then made my way to the boarding area.
That wasn't as easy as it sounds. I was so early, my flight wasn't yet up on the screen. So I wandered around the duty free area. Eventually, my flight was up on the screen and I sat down to wait for the plane.
There was a slight delay leaving because other planes had banked up in front of us. Yep, grid lock on the runway.
So, we took off and the crew began their safety instruction routine. I have to say, I don't think it's humanly possible to speak English faster than the Dutch.
We landed in Amsterdam, I took some photos of the airport, tried to validate my Amsterdam card then I hopped on the shuttle bus to the Hotel. The hotel was only about 5 minutes away.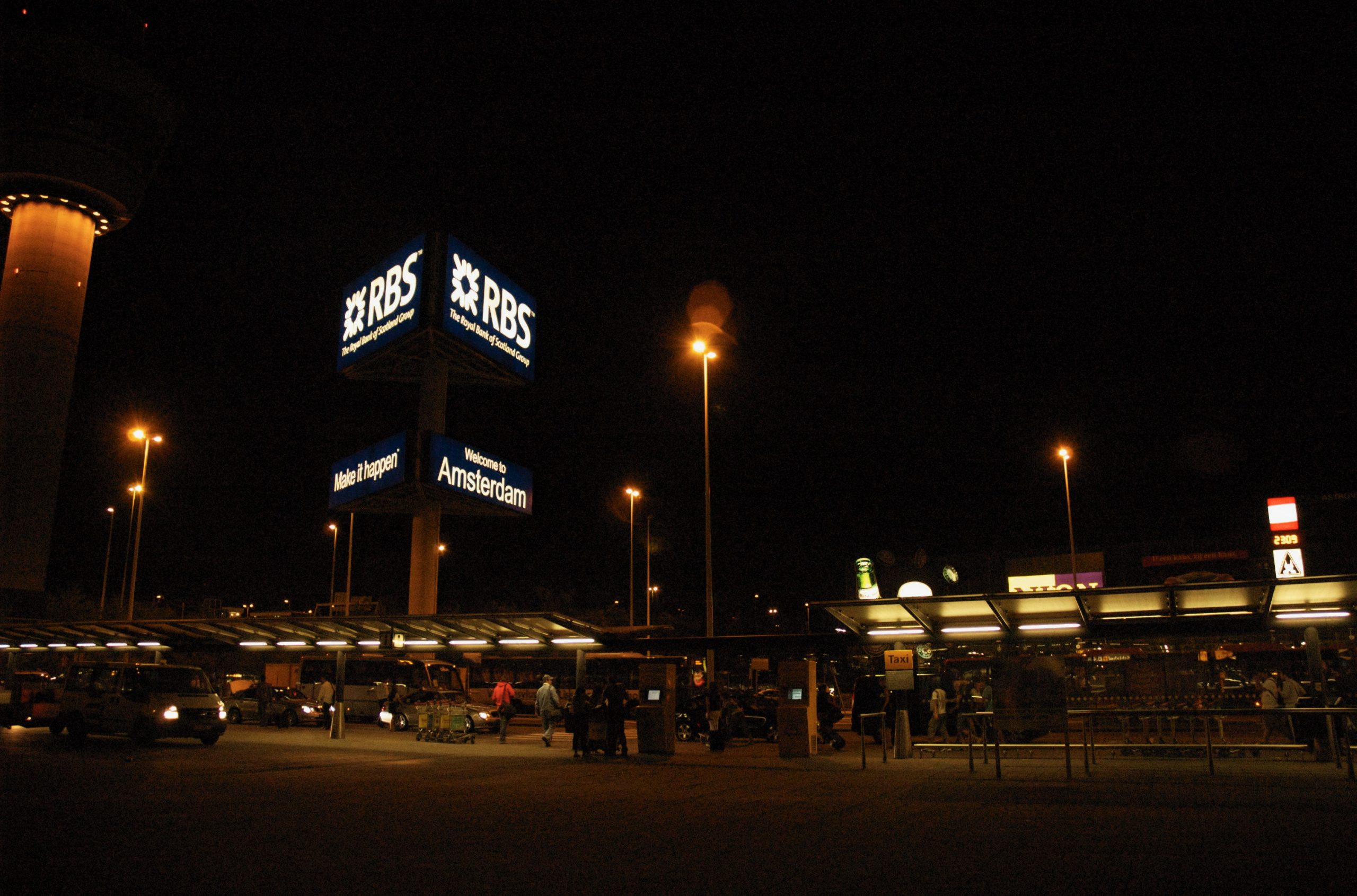 It was about 10:45pm and I wanted to go out.
The hotel receptionist said there were no taxis but she would be happy to ring one. She said she'd call me in the room as there was going to be about a 20 minute wait before the taxi arrived.
Eddy, the taxi driver was great. A big bloke, deep voice and small earing in his right ear. We started the usual banter .. "first time in Amsterdam? … how long are you staying? … where's Canberra?"
I asked how long it was until we reached the city part of town. He said about 20 minutes. Then I asked he had change for a 50 euro note.
He laughed and said, "There's not going to be much!"
I laughed too and he said "Tomorrow, you catch the free shuttle to the airport and the train to Centraal, it will be much cheaper."
What a nice gesture, he could have ripped me off. As it turned out, it was 55 euro when we got to town.
I walked around trying not to look like a tourist 🙂
After grabbing a coffee, went back to the hotel and collapsed.
🙂