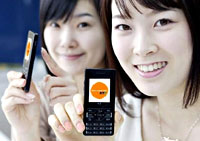 The Korean Company [KTF Technologies](http://www.kt.co.kr/kthome/eng/index.jsp) unveiled the KTF EV-K100 probably the World's Slimmest Mobile Phone. Just 7.9-millimetre, it makes other slim phones highly overweight.
This was possible by reducing the thickness of the antenna and KTF was heard commenting "We substantially cut down the thickness of the antenna incorporated into the EV-K100 and instead extended it's length to secure all the necessary functions.
Our ultra-slim phone would be a grand slam since it offers rich applications at a reasonable price. The slimness will also arrest the attention of design-savvy customers."
No word on whether it will see a worldwide release but it would be available in Korea for 400,000 won (US$412). Right now they haven't released any features but we will try to keep you updated.
—
Via [Mobilewhack](http://www.mobilewhack.com/reviews/ktf_ev-k100_-_the_worlds_slimmest_phone.html)