Hi again folks. Well, last night was "comfort food". Tuna Mornay prepared by Fiona.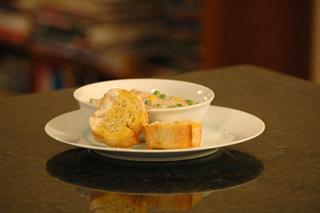 ###Ingredients######
– Tuna (canned is fine)
– Milk
– Butter
– Flour
– Cheese (tasty)
– Rice
– Peas and Corn
– Garlic bread
###Method######
Start your plain white rice boiling.
You make a [roux](http://en.wikipedia.org/wiki/Roux) (paste) with butter and flour and then gradually add milk till it all thickens into a white sauce. Then add some cheese, the tasty variety (Bega, Coon) is nice. Keep stirring the cheese in until it melts.
Add your tuna. Mix in some peas and corn.
Pour the sauce over the rice and serve with some garlic bread.
It's a quick meal that's cheap but tasty!